Miraflores - Commercial and tourist centre in Lima Peru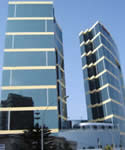 Miraflores is one of the liveliest and most attractive districts in Lima, the capital city of Peru. Many vistors to Peru spend their first day or two in Lima before moving on to visit Machu Picchu, Cusco, Manu in the rainforest, or some of the many archeological wonders of Peru along the coast. And Miraflores is perhaps the best places to stay while in Lima.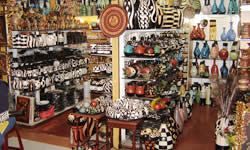 In Miraflores you will find modern shops selling electronic goods, fashion clothes, books sporting equipment.
You will also find rustic souvenir shops selling a vast variety of beautiful Peruvian products from paintings to sculptures, alpaca jumpers, silver jewellery, leather goods, rugs and rucksacks.
There are many hotels to fit all budgets from the expensive and luxurious to comfortable, friendly and clean budget accommodation.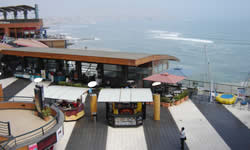 Miraflores is a 20 minute taxi ride from the airport and is one of the safest areas of Lima.
Miraflores meets the sea at the modern Larco Mar shopping and entertainment complex where you can buy quality goods, eat excellent food and see a film in the centre's multiplex cinema.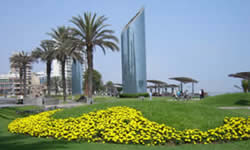 If you have time, take the Mirabus tour and tavel through Miraflores to see the sights and parks including the Huaca Pucllana (complex made of adobe bricks) built during the Lima culture.
The central park is Kennedy Park or "Parque Kennedy", a beautiful place to sit for a while and appreciate the flowers and tranquillity away from the hustle and bustle of the streets.
You can see many photos of Miraflores Lima at MirafloresLima.com together with information in Spanish